When, he was asked, when does he intend to retire?
"When I kick the bucket," he said.
John J Doster of Levittown passed away, April 2, 2015, at St. Mary's Medical Center. He was 95 years old. John was born in Levittown and was a lifelong resident. He was proud Army WWII Veteran and was the recipient of the Purple Heart, Bronze and Silver Star and was the recipient of Chapel of Four Chaplains Award. John was the longest active volunteer fireman in the nation serving 82 years. John's career as a volunteer fireman included being the past chief, past president and lifetime member of the Edgely Fire Company #10. He was the first instructor of the Bucks County Fire School, the Assistant Bristol Twp Fire Marshall, Assistant Bucks County Fire Marshall and the recipient of the National Volunteer Fire Counsel lifetime Achievement Award and was the oldest active volunteer fireman in the state of Pennsylvania. John worked as an electrician for George Bailey Electric. He was preceded in death by his beloved wife of 41 years Lydia E. (nee Wright) Doster. He was the devoted father to the late John J. Doster, Sr. (Dawn Schaffer-Doster) and Glenn G. Doster. He will be sadly missed by his brother Albert Doster (Sue) and his grandchildren John J. Doster, Jr. (Dawn) and Emma Doster and his great grandchildren Devon and Kylie Doster and several nieces, nephews and cousins. He was preceded in death by his granddaughter Lohra Rhoades.. Relatives and friends are invited to attend is viewing Thursday eve from 5:00 to 9:00 PM at the Edgely Fire Company #10, 1200 Edgely Avenue, Levittown, PA 19057 and again Friday morning from 10 to 11 AM, followed by his service at 11 AM. Interment Sunset Memorial Park. In lieu of flowers, memorials in his memory may be made to the Edgely Fire Company, 1200 Edgely Avenue, Levittown, PA 19057.
Silver Star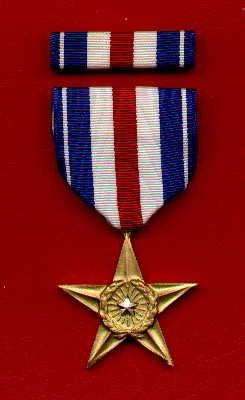 The Silver Star Medal is the United States' THIRD HIGHEST award exclusively for combat valor, and ranks fifth in the precedence of military awards behind the Medal of Honor, the Crosses (DSC/NC/AFC), the Defense Distinguished Service Medal (awarded by DOD), and the Distinguished Service Medals of the various branches of service. It is the highest award for combat valor that is NOT unique to any specific branch; it has been bestowed by the Army, Navy, Marine Corps, Air Force, Coast Guard, and Merchant Marines. It may be given by any one of the individual services to not only their own members, but to members of other branches of service, foreign allies, and even to civilians for "gallantry in action" in support of combat missions of the United States military.
USA Firefighter Fatality Notification



The U.S. Fire Administration (USFA) has received notice of the following firefighter fatality:
Name: John J. Doster
Rank: Fire Police Captain
Age: 95
Gender: Male
Status: Volunteer
Years of Service: 82
Date of Incident: 02/25/2015
Time of Incident: 1955hrs
Date of Death: 04/02/2015
Fire Department: Edgely Fire Company #1, Inc.
Address: 1200 Edgely Avenue, Levittown, PA 19057
Fire Department Chief: Carl Pierce
Incident Description: Fire Police Captain Doster complained of not feeling well while on the scene of a two-alarm warehouse fire in Hulmeville Borough, Pennsylvania. Doster was directing traffic on a bitterly cold evening with much of the main street of the borough closed for fire operations. Shortly thereafter, Doster departed for home. Within a few hours, Doster's condition worsened and he was transported to the hospital for treatment. Subsequently, on April 2, 2015, Fire Police Captain Doster passed away at St. Mary's Medical Center.
Incident Location: Vicinity of Lincoln AVE and Pennsylvania AVE, Hulmeville
 Tribute is being paid to Fire Police Captain John J. Doster at: John J Doster
John Doster of Levittown sleeps with a radio on and his boots beside the bed. The radio, tuned to Bucks County's 911 dispatcher, crackles intermittently through the night, sending first responders out to fires, car crashes and other emergencies. Whenever a call comes through that is within his reach, Mr. Doster pulls on his boots and his Fire Police coat and heads out the door. At the scene of the incident, he will direct traffic, control crowds of onlookers, and even help pull hoses to where they are needed. Rain, snow, sleet and dark of night do not faze him. "If I can help," he said, "I will."
John Doster is by any standard an exceptionally dedicated man. But his work ethic is all the more remarkable given his age—he's 93 years old. He is the oldest and longest-serving active volunteer firefighter in America.
For Mr.Doster, helping one's neighbor and serving the community have been a lifelong vocation. He first joined the Edgely Fire Company in 1934 (it had a different name at the time) at the age of 15. "I went to the Edgely School, " he said. "It was right across the street from the fire station. When the fire bells rang, some of us kids were allowed to run across and help push the trucks out to get them started. A few times I jumped on the truck and went along for the ride. The principal didn't like it."
But young John liked it, and became a fixture at the fire house. Over the next 77 years (with a brief intermission in North Africa during World War II) he served as chief of Edgely Fire Company #1, helped plan and launch the first fire training school in Bucks County, and saved at least three lives in the hundreds of fires he has fought. He has received numerous awards, citations, framed photographs and plaques, including a personal letter of commendation from President George W. Bush.
When Mr. Doster first started fighting fires, there were no fire hydrants. "We had to draft [siphon] water out of the canal or the river, with two guys working a hand pump to keep it coming; or even pass buckets of water from one man to another in a line." When asked if firefighting is easier nowadays, he does not glorify the past. "In some ways it is," he said, "because of easy access to water and better communications gear. But in other ways it's more dangerous now. There are more things that can suddenly explode, like gas lines or a pile of household chemicals."
Mr. Doster does have some regrets. "Being part of a fire company was more of a social thing back then, involving whole families and the whole community. There's less camaraderie now." Both of John's sons were local firefighters; his wife Lydia, who passed away in 1985, had been active in the fire company's Ladies Auxiliary, which no longer exists.
At 93, John Doster is still tall and sturdy, his mind clear and his memory sharp. When, he was asked, when does he intend to retire?
"When I kick the bucket," he said.
Photos by Alan J. Micklin
3,867 total views, 2 views today